Innovation @iRAP
Providing the tools and confidence to invest in safer roads
Innovation partnerships
iRAP brings together innovative teams, with a common interest in saving lives through safer roads and safer journeys. Our global partnerships with government, mobility clubs, industry and research groups ensures innovative ideas from one programme partner can be shared immediately with others for mutual benefit.
This has allowed us to develop the Innovation Framework - iRAP's online hub outlining each current innovative product and service. Some key innovations in development or in the pipeline are summarised in two different key areas:
model innovation
product innovation.
Innovative ideas are supported and nurtured through key networking events, including iRAP's major annual event - Innovation workshop. This significant event brings together innovative leaders, along with investment experts and those with the capacity to implement change and eliminate high-risk roads.
Please click through the tabs above which offer more information on the key areas and supporting events. To download the Innovation@iRAP flyer please click here
What is the purpose of the Innovation Framework?
The Innovation Framework is our online hub demonstrating how local expertise is being applied and continuous improvements can be accessed and shared globally.
iRAP's Innovation Framework profiles a suite of model and product innovations, led by iRAP and our global partners, the vast majority of which are provided in a free-to-air capacity for the benefit of all to use in a spirit of shared commitment and cooperation to save lives.
At the heart of all RAP innovations and protocols globally, is the iRAP Star Rating model and methodology. It provides a free-to-air consistent evidence-based global standard for assessing the level of safety which is 'built-in' to the road for vehicle occupants, motorcyclists, bicyclists and pedestrians. The methodology ensures that no matter where in the world road risk is being evaluated, a consistent objective rating can be relied upon.
The model development and the technical integrity of iRAP protocols worldwide is overseen by the Global Technical Committee (GTC). The GTC which reports directly to the iRAP Board is comprised of experts from leading road safety organisations and research agencies from around the world. The GTC ensures that the latest road safety research is included and that the model is consistently applied.
Members and Observes of the Global Technical Committee and which Regional RAP they represent are outlined below.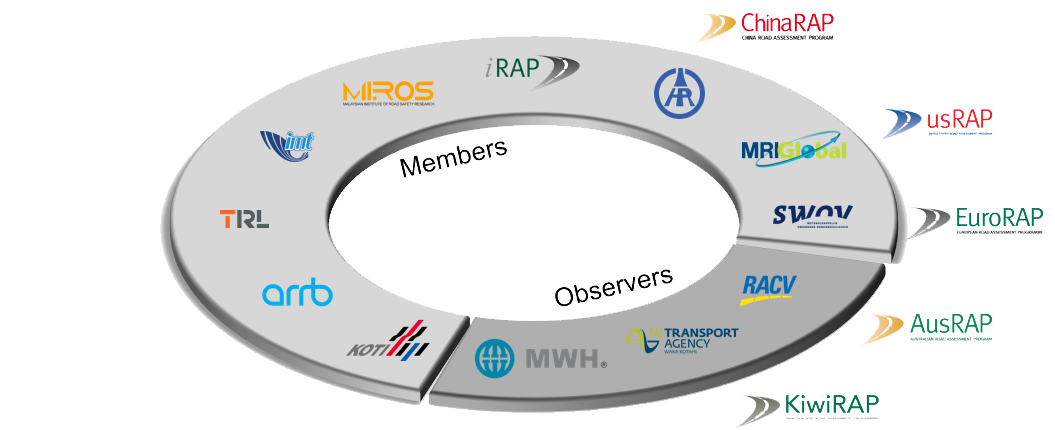 The Star Rating for Designs (SR4D) web app has been developed with the aim of enabling Star Ratings to be easily incorporated into the road design process.

Managing a global programme across 100+ countries is a challenging task! Thanks to the amazingly generous pro-bono support of Microsoft Dynamics CRM Provider Barhead, coupled with a new technical partnership with Oakton, tracking our global programme is soon to become easier. iRAP's CRM will manage our individual and organisation champions, metrics, training events, projects, partnership agreements and advocacy activities.
Do you have an idea that can help save lives?
If you have an innovative idea that can help save lives through safer roads and safer journeys, or would like further information on our Innovation Framework please feel free to contact us.