Accreditation @ iRAP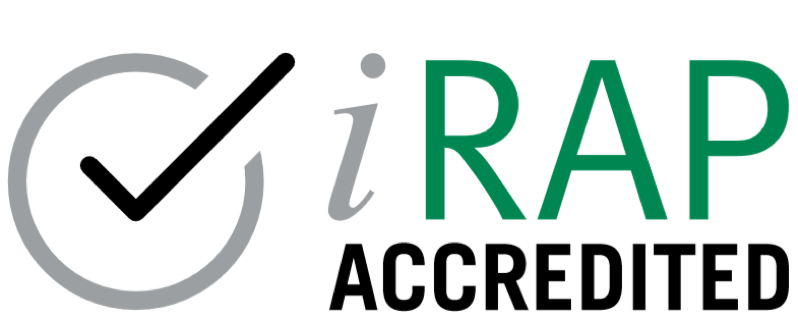 With iRAP accreditation you become part of a community of experts that are able to perform iRAP-specification activities to the same consistently high level of quality worldwide. If you are a consultant, you will become part of a market of suppliers that are able to bid competitively to provide iRAP-specification services. Although not mandatory, we encourage organisations that are performing and/or commissioning iRAP assessments to make use of accredited personnel.
Benefits of becoming an iRAP accredited supplier:
Formal acknowledgement that you are capable of performing iRAP-specification activities.
Formal acknowledgement that an inspection system is capable of being used to perform iRAP specifications.
Listing on the iRAP website as an accredited supplier. This listing is used regularly by organisations procuring iRAP-specification services, such as the World Bank.
License to use the iRAP Accredited logo.
If you would like to become an iRAP accredited supplier please complete the application form here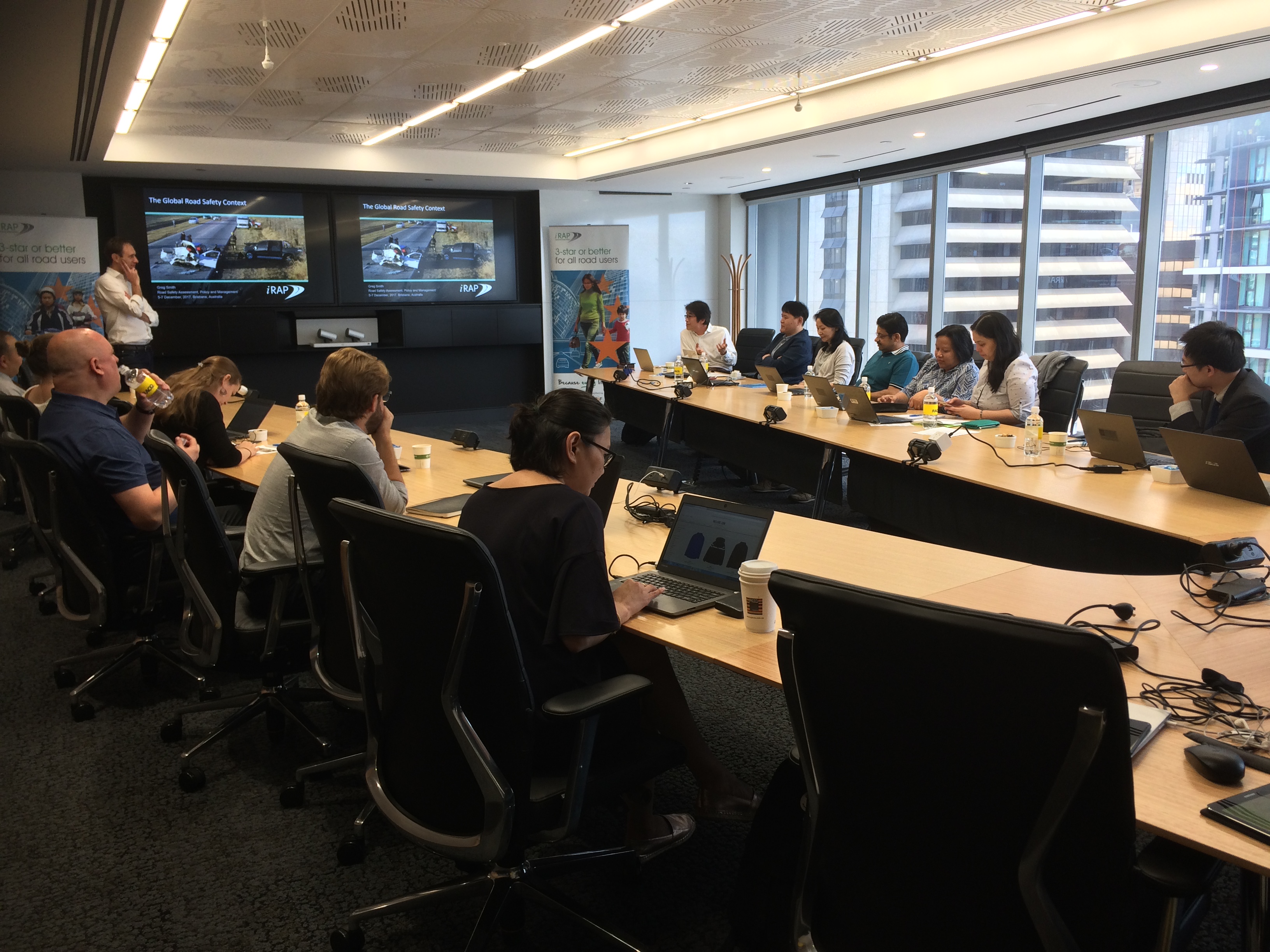 iRAP offers two types of accreditation:
Click on the (+) icon below to expand each topic area for more information.
Activity Accreditation (survey, coding and analysis and reporting)
This type of accreditation is available only to individuals in three activities:
Road surveys, which involves image, GPS and distance data collection, and speed and flow sampling.
Road attribute coding, which involves using survey imagery to record road attributes at fixed intervals.
Analysis and reporting, which involves using road attribute coding data and other supporting data to create road safety Star Ratings and Safer Roads Investment Plans in the iRAP online software, ViDA.
For more information and the relative specifications click on Road Survey, Road Coding, and Analysis and Reporting.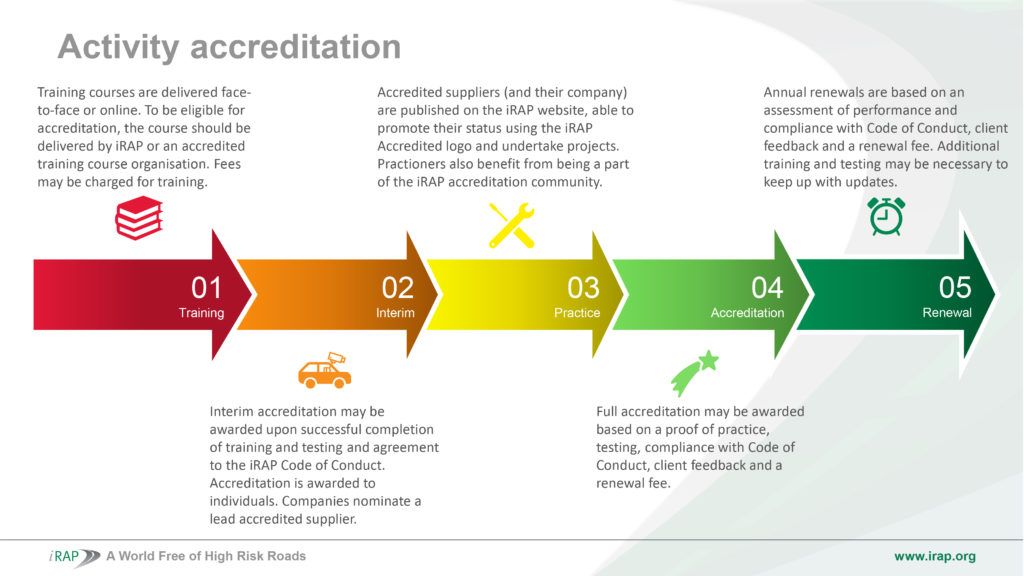 Activity Accreditation tests: 

As part of the accreditation process, a test is administered for each activity. The accreditation candidate has two attempts to pass the tests.
Interim Activity Accreditation:

 The first activity accreditation is interim until the supplier has performed an iRAP project. The supplier can apply to change his/her status at any time by completing a renewal form with the details of the project and the client details. After this, iRAP will contact the client for feedback about the supplier's performance.
Activity Accreditation Renewal:

 The accreditation is annual and the renewal is based on the supplier's performance, compliance with iRAP Code of Conduct, client feedback and payment of a renewal fee.
Inspection System Accreditation (survey and coding, and coding only)
This accreditation certifies that the inspection system has the capability to:
supply accurate data, suitable for coding the iRAP Star Rating attributes
export the data in a format suitable for iRAP
use the associated software systems to enable iRAP or nominated third parties to review the coded data relative to the video and location data.
Process for Inspection System Accreditation:
Click here to find more information about the requirements for iRAP Inspection System Accreditation
Process timelines:

 Please allow at least three months from proposal approval to the effective iRAP Accreditation. The process from training to the assignment delivery can take several months, depending on response times from the applicant.
Accreditation fees:
The fee for activity accreditation is USD 200 per person per year (or USD 100 per person per year for those living in countries not defined as High Income). A person will pay a maximum of USD 200 (or USD 100) per year, regardless of the number of types of accreditation they hold.
The fee for inspection system accreditation on survey and coding is USD 8750 per system type. For only coding systems, the fee is USD4,400 per system type. The accreditation is for three years and the renewal fee is 50% of the relative fee. Companies, organizations or individuals who manufacture a system are eligible to apply for accreditation. Accreditation will also be subject to testing against the iRAP inspection system specification.
As a charity, our lifesaving work is only made possible through the generosity of our donors. We also benefit greatly from the goodwill of many individuals and research organisations around the world who are committed to saving lives through safer roads.  iRAP is extremely grateful for the support of all our partners. Fees for accreditation are vitally Important in ensuring that these activities are sustainable and remain accessible to every country.
For more information
If you would like to build the capacity to undertake iRAP assessments or would like to become an accredited supplier which is able to tender for iRAP projects, then please contact:
Alessandra Françóia – Training and Accreditation Coordinator
alessandra.francoia@irap.org